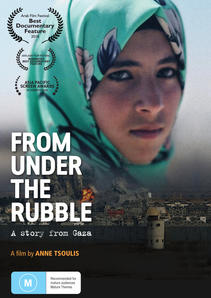 At the June meeting, our Social Justice and Environment group discussed the ongoing conflict in Palestine/Israel, and the urgency for us all to do whatever we can to bring about peace and safety to the suffering Palestinians and Israelis who need support to bring a lasting peace.
'From Under the Rubble' is an Australian award winning documentary focusing on the Samouni family in Gaza. It is a civilian perspective on the impact of Israeli armed  forces in Gaza. Directed by Anne Tsoulis it can be watched on line on vimeo on demand at:  www.roninfilms.com.au/feature/15257.

Holy Cross are hoping to host a speaker later in the year about Ecumenical Accompaniers in Palestine.